Pop-upurile informationale din Windows Explorer sunt acele pop-upuri care apar de fiecare data cand tinem cursorul mouse-ului peste un folder sau fisier dintr-un folder. De cele mai multe ori utilizatorii Windows ignora aceste pop-upuri, avand in vedere ca informatiile oferite sunt destul de sumare si fara vreo relevanta anume (in mod default sunt afisate tipul de item, data la care a fost creat sau modificat si dimensiunea acestuia), insa, in anumite situatii, desi raman vizibile doar pentru cateva secunde, pot deveni iritante daca sunt afisate peste alte itemuri la care se doreste acces.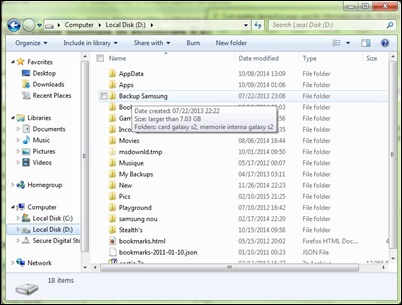 In cazul in care si dvs considerati ca pop-upurile informationale (tooltips) din Windows Explorer sunt inutile, si preferati ca acestea sa nu mai fie afisate, puteti sa le dezactivati folosind una dintre metodele de mai jos.
Cum dezactivam tooltip-urile din Windows Explorer?
1. Registry Editor
deschideti Run, tastati regedit si dati Enter
navigati catre key-ul HKEY_CURRENT_USER\Software\Microsoft\Windows\CurrentVersion\Explorer\Advanced
in partea dreapta, sub Advanced, localizati intrarea DWORD ShowInfoTip si modificati-i valoarea in 0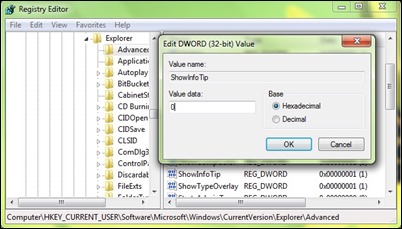 apoi dati un restart sistemului sau explorer-ului pentru ca modificarea facuta sa aiba efect
Daca preferati sa nu faceti modificari in registri de sistem, puteti dezactiva pop-upurile informationale din Windows Explorer folosind urmatoarea metoda:
2. Folder Options
deschideti un Windows Explorer si dati click pe Organize (sau File) > Folder and search options
in tab-ul View, sub Advanced Settings, identificati si debifati optiunea Show pop-up description for folder and desktop items si dati click pe OK
Si gata. Folosind una dintre metodele de mai sus, veti dezactiva pop-upurile informationale din Windows Explorer. Retineti insa ca aceste metode nu vor dezactiva toate pop-upurile din sistem.
Nota: Inainte de a efectua orice modificari in registri de sistem, efectuati un backup al acestora sau creati un restore point (pentru cazul in care dupa modificarea facuta apar erori de sistem).
STEALTH SETTINGS – How to disable info pop-ups in Windows Explorer