Imediat dupa lansarea Windows 8, foarte multi utilizatori ai acestui sistem de operare nu au reusit sa se adapteze la diferentele majore dintre acesta si predecesorul sau, Windows 7, si au preferat sa foloseasca aplicatii third-party pentru a dezactiva anumite feature-uri care, in opinia lor, reuseau mai mult sa incurce decat sa ajute. In incercarea de a multumi chiar si cei mai carcotasi useri, Microsoft a facut cateva ajustari in Windows 8.1 (update disponibil momentan in varianta Preview) bazandu-se pe feedback-ul primit de la acestia, adaugand o serie de optiuni in setarile de sistem care permit dezactivarea unor feature-uri ca App Switcher sau Charms Bar (hot-corners), activarea bootarii direct in Desktop (fara a mai afisa intai Start Screen-ul) sau o customizare mai flexibila a Start Screen-ului. Unele dintre optiunile mentionate mai sus sunt disponibile in PC Settings, insa o metoda mai usoara de accesare a acestora este prin intermediul Taskbar-ului.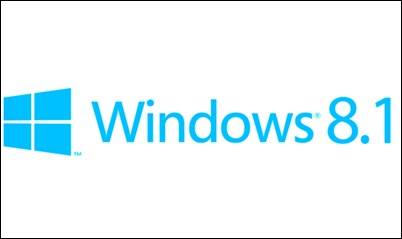 Cum putem dezactiva hot-corners in Windows 8.1 Preview?
dati click-dreapta pe Taskbar si selectati Properties din meniul afisat
in tab-ul Navigation, debifati optiunile When I point to the upper-right corner, show the charms (pentru a dezactiva Charms bar) si When I click the upper-left corner, switch between my recent apps (pentru a dezactiva App Switcher)
apoi dati click pe Apply si OK pentru ca modificarile sa aiba efect.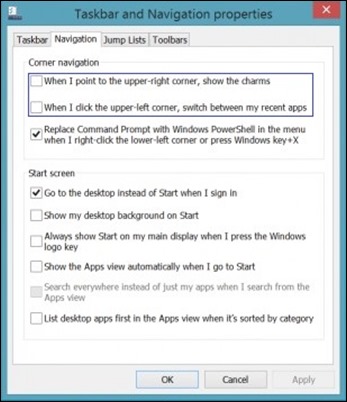 Hot-corners pot fi dezactivate si din PC Settings > Corners & edges > Corner navigations.
Cum putem activa afisarea background-ului de pe Desktop ca background al Start Screen-ului?
In Windows 8.1, Start Screen-ul dispune de mai multe optiuni de customizare, utilizatorii putand alege dintr-o varietate mai larga de background-uri disponibile pentru acesta, ba chiar putand seta imaginea de fundal a Desktop-ului ca background pentru Start Screen.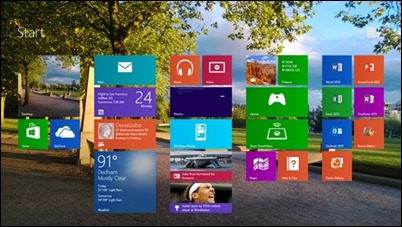 Cea mai simpla metoda pentru a face acest lucru este tot prin intermediul Taskbar-ului:
dati click-dreapta pe Taskbar si selectati Properties din meniul afisat
in tab-ul Navigation, bifati optiunea Show my desktop background on Start, apoi dati click pe OK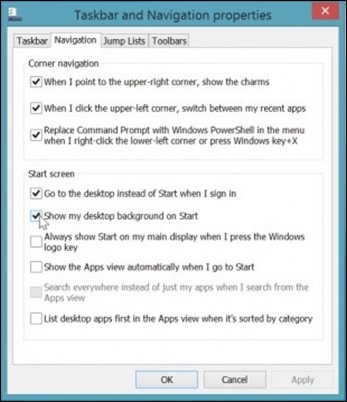 Tot in Taskbar and Navigation Properties mai sunt disponibile si alte optiuni, cum ar fi cea de bootare direct in Desktop sau afisarea Apps view cand se da click pe butonul de Start (in locul afisarii Start Screen-ului) sau listarea intai a aplicatiilor pentru desktop in Apps view atunci cand acestea sunt sortate pe categorii.
Nota: Mai multe optiuni de customizare a Windows 8.1 Preview gasiti in noul PC Settings.
STEALTH SETTINGS – Customize Windows 8.1 Preview directly from Taskbar
Customizeaza Windows 8.1 Preview direct din Taskbar