Mozilla a lansat recent versiunea 8.0 a Firefox.
Ca interfata grafica (UI) noua versiune nu vine cu nimic nou, in schimb sunt aduse o serie de noutati care maresc semnificativ viteza de lucru (in special de deschidere a browser-ului atunci cand sunt multe tab-uri deschise) si scad consumul de resurse (RAM) la vizualizarea / deschiderea paginilor cu continut video si audio.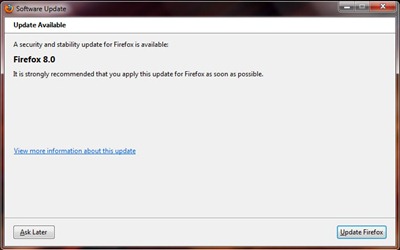 Noutati Mozilla Firefox 8.0
– Add-ons installed by third party programs are now disabled by default
– Added a one-time add-on selection dialog to manage previously installed add-ons
– Added Twitter to the search bar for select locales. Additional locale support will be added in the future
– Added a preference to load tabs on demand, improving start-up time when windows are restored
– Improved performance and memory handling when using <audio> and <video> elements
– Added CORS support for cross-domain textures in WebGL
– Added support for HTML5 context menus
– Added support for insertAdjacentHTML
– Improved CSS hyphen support for many languages
– Improved WebSocket support
– Fixed several stability issues
– Fixed several security issues
O noutate in Firefox 8.0 este si adaugarea "serach bar-ului" pentru Twitter. Foarte util pentru cei care folosesc intens serviuciul de socializare si doresc sa caute informatii pe Twitter.
Download Mozilla Firefox 8.0 – mozilla.org.
Mozilla Firefox 8.0 este disponibil in peste 70 de limbi, inclusv in limba romana.
Mozilla Firefox 8.0 : Download / Update