Una dintre schimbarile majore in Windows 8 este eliminarea unor efecte Aero, cum ar fi Aero Glass sau dezactivarea altora (cu posibilitate de reactivare), cum ar fi Aero Peek. Alte efecte aero cu care ne-am obisnuit inca din Windows 7, de exemplu Aero Snap (maximizarea automata a unei ferestre cand aceasta este trasa spre marginile de sus, stanga si dreapta a ecranului) sau Aero Shake (aducerea in prim-plan/focus a unei ferestre atunci cand aceasta este "scuturata") au supravietuit si in Windows 8.
Cum Aero Glass a fost eliminat total, acesta poate fi "reanimat" doar partial si doar cu ajutorul unor aplicatii third-party, de exemplu Aero8Tuner. Insa cei care simt lipsa efectului Aero Peek (in Windows 7 utilizatorii pot vizualiza desktop-ul prin ferestrele active, fara fi necesar sa le minimizeze – acestea devenind transparente atunci cand se trece cu mouse-ul peste butonul Show desktop, situat in coltul din dreapta-jos al ecranului, langa data), se vor bucura probabil sa afle ca acesta a fost doar dezactivat, si poate fi oricand readus la viata.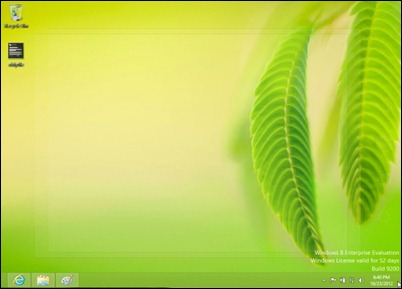 Cum putem reactiva Aero Peek in Windows 8?
dati click-dreapta pe Taskbar si selectati Properties
in fereastra deschisa, bifati optiunea Use Peek to previwe the desktop when you move your mouse to the show desktop button at the end of the taskbar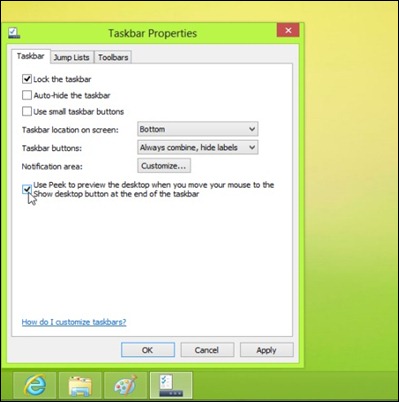 apoi dati click pe Apply si OK
O alta metoda, mai simpla, de a activa Aero Peek in Windows 8 este sa dam click-dreapta pe butonul Show desktop si sa selectam Peek at desktop.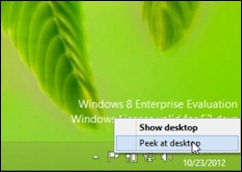 La fel de simplu putem sa dezactivam Aero Peek, urmand aceeasi pasi descrisi mai sus (in ambele metode).
STEALTH SETTINGS – How to bring back Aero Peek in Windows 8
Cum putem aduce inapoi Aero Peek in Windows 8