Daca va ganditi sa va schimbati telefonul, sau ati facut-o deja, in favoarea unui iPhone, in cazul in care nu v-a mai intrat nici unul pe mana pana acum si doriti sa aflati cum sa-l configurati inainte de prima folosire, instructiunile de mai jos va vor fi cu siguranta de ajutor.
Cum setam un iPhone inainte de prima folosire
deschideti telefonul, apoi glisati cu degetul pe slide-ul din partea de jos a ecranului pentru a incepe procesul de setup
selectati limba in care doriti sa folositi telefonul si atingeti butonul Next (sageata) din coltul dreapta-sus al ecranului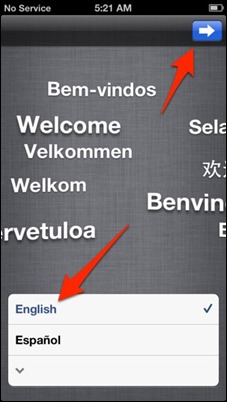 selectati tara in care folositi telefonul si atingeti din nou Next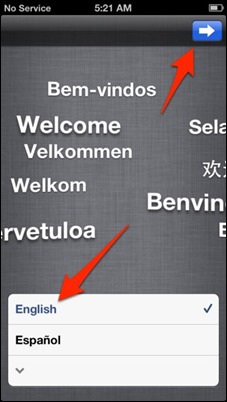 telefonul va identifica toate retelele WiFi disponibile in zona in care faceti configurarea (cel mai probabil acasa sau la servici); daca aveti acces la o retea WiFi, selectati-o; altfel dati tap pe Use Cellular Connection (presupunand ca aveti acces la un plan de internet mobil sau va permiteti costul suplimentar :D)
daca este necesar, introduceti parola pentru reteaua WiFi la care doriti sa va conectati, apoi atingeti butonul Join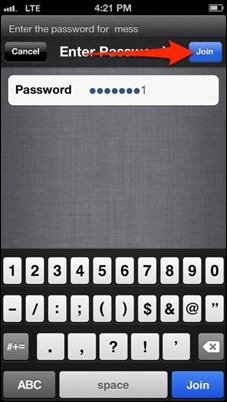 dupa ce va conectati la retea, tap pe Next
De aici inainte, va veti seta noul telefon in functie de preferinte:
Location Services permite aplicatiilor instalate pe telefon sa foloseasca informatii din reteaua mobila, retelele WiFi si GPS pentru a aproxima cat mai exact locatia in care va aflati; daca doriti sa folositi acest serviciu, selectati Enable Location Services, daca nu, selectati Disable Location Services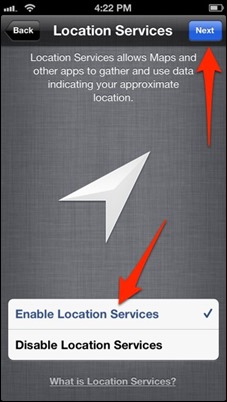 dati tap pe Next, selectati Set Up iPhone, apoi din nou tap pe Next
in cazul in care aveti deja un ID Apple, dati click pe Sign In with an Apple ID, altfel, selectati Create a Free Apple ID (acesta este necesar pentru a putea avea acces la App Store si pentru a putea conecta noul telefon cu iTunes)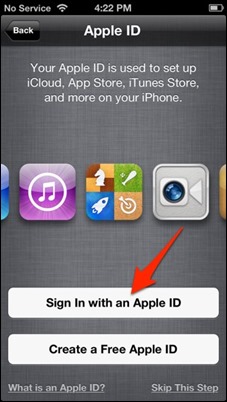 dupa logare, va trebui sa fiti de acord cu termenii si conditiile Apple, apoi asteptati configurarea ID-ului
selectati daca doriti sa folositi iCloud sau nu (acest lucru poate fi oricand modificat in setari) si dati tap pe Next
pentru viitoarele backup-uri pe care le veti face, selctati varianta preferata: Backup to iCloud sau Back Up to My Computer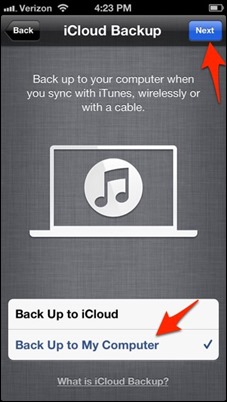 selectati activarea serviciului Find My iPhone, gratuit si de mare ajutor in cazul in care va rataciti telefonul si nu stiti de unde sa-l luati, sau il pierdeti, va este furat etc.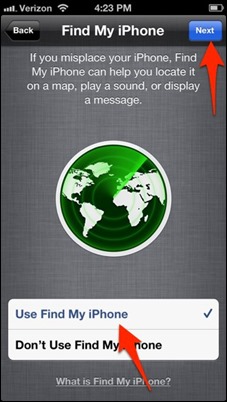 apoi selectati Use Siri (recomandat) si dati tap pe Next
alageti daca doriti sa trimiteti feedback la Apple sau nu (diagnostics & usage), apoi dati din nou tap pe Next
alegeti daca doriti sa va inregistarti pentru noutati de la Apple, si dati tap pe Next
apoi dati tap pe Start Using iPhone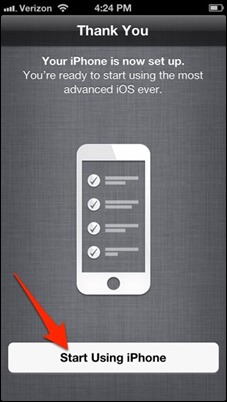 cel mai probabil veti primi o notificare de update de software; dati tap pe butonul Details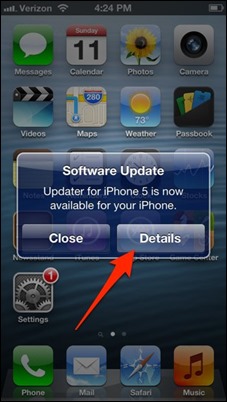 apoi downloadati si instalati updater-ul pentru a va pregati telefonul de upgrade-ul de software
dupa instalarea updater-ului (va dura cateva minute), dati click pe OK pentru a instala update-ul de software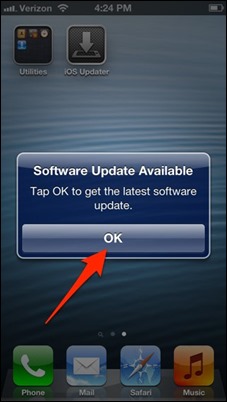 asteptati ca telefonul sa caute update-ul, apoi dati tap pe Download and Install
iar dupa updatarea software-ului veti vedea in sfarsit home screen-ul iPhone-ului dvs.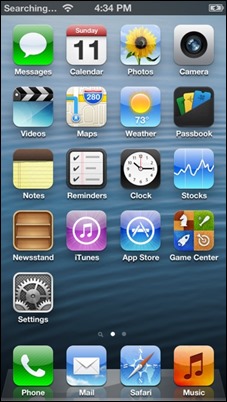 Enjoy!
STEALTH SETTINGS – How to setup an iPhone for the first use
Cum setam un iPhone pentru prima data