Majoritatea utilizatorilor Windows obisnuiesc sa defragmenteze periodic hard-diskurile pentru a imbunatati performanta si viteza acestora. Atunci cand fisierele scrise pe un hdd sunt salvate fragmentat, citirea acestora dureaza mai mult decat ar trebui in mod normal, aceasta fiind una dintre cauzele functionarii greoaie a unui sistem Windows (practic, defragmentarea reprezinta procesul de mutare unele langa altele a datelor care apartin acelorasi fisiere, pentru ca acestea sa poata fi citite si incarcate mai rapid).
In timp ce fragmentarea fisierelor mici, cum ar fi fotografiile sau documentele, nu implica neaparat o problema (lagul de citire al acestora este nesemnificativ), cand vine vorba de aplicatii mai mari, cum ar fi jocurile, fragmentarea acestora poate duce la laguri destul de mari care ofera o experienta destul de proasta utilizatorilor (fie ca e vorba de intarzierea in deschiderea aplicatiei, lagul in timpul rularii acesteia sau raspunderea intarziata la comenzi). Acelasi este cazul si pentru aplicatiile moderne din Windows 8/8.1.
Smart Defrag 3 este o utilitate gratuita de la iObit cu ajutorul careia utilizatorii pot defragmenta aplicatiile moderne instalate in Windows 8/8.1 (desi Smart Defrag nu este o aplicatie noua, acest feature a fost adaugat recent, in ultima versiune a aplicatiei). In plus, aplicatia include si optimizare pentru resursele de memorie si de sistem, un feature pentru analizare in profunzime care detecteaza si sterge fisierele temporare inainte de inceperea procesului de defragmentare pentru a mari viteza acestuia si un nou motor disk defrag care mareste viteza defragmentarii cu pana la 50%.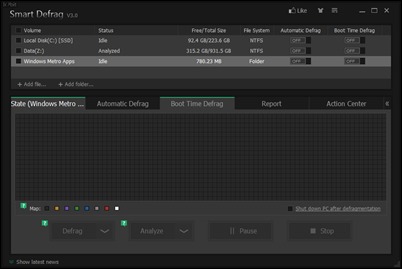 Cum functioneaza Smart Defrag 3?
Aplicatia afiseaza toate drive-urile conectate la PC, volumul acestora, spatiul total disponibil si spatiul liber de pe acestea. De asemenea, utilizatorii pot activa si dezactiva defragmentarea automata si boot time defrag pentru drive-uri cu ajutorul switch-urilor disponibile in dreapta acestora.
In cazul in care doriti o analiza rapida pentru a va face o idee despre starea hard-diskului dvs, alegeti optiunea Quick Analize. Pentru o analizare aprofundata, selectati Deep Analize.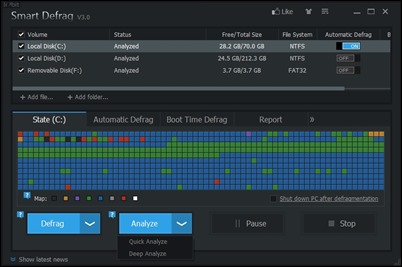 Dupa ce analiza discului este completa, aplicatia va va recomanda ce trebuie sa faceti in continuare. In cazul in care defragmentarea este necesara, aveti de ales intre cele 4 optiuni disponibile: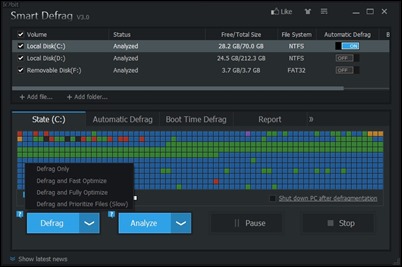 Defrag Only – care va defragmenta hard-diskul
Defrag and Fast Optimize – va defragmenta diskul si va optimiza organizarea fisierelor pe acesta
Defrag and Fully Optimize – defragmentare si optimizare ceva mai extensiva a fisierelor de pe disk
Defrag and Prioritize files – defragmenteaza si prioritizeaza datele pe disk pentru o performanta maxima a acestuia (procesul acesta dureaza cel mai mult)
Optiunea pentru defragmentarea aplicatiilor moderne nu este disponibila decat pentru sistemele Windows 8 si Windows 8.1 (evident) si este accesibila ca intrare separata din interfata principala a aplicatiei. Aceasta accelereaza accesul catre aplicatiile moderne si mareste performanta acestora si a sistemului.
Nota: Aplicatia este compatibila si cu versiuni anterioare de Windows (incepand cu Windows 2000).
STEALTH SETTINGS – Defrag Windows 8.1 modern apps wirh Smart Defrag 3
Defragmenteaza aplicatiile moderne din Windows 8.1 cu Smart Defrag 3