Probabil cel mai cunoscut feature al noului sistem de operare Windows 8, dar si cel mai criticat, Start Screen a starnit reactii diferite in fiecare utilizator in parte. In timp ce unii dintre ei au devenit fani (mai mult sau mai putin) infocati ai acestuia, sunt inca destui utilizatori care prefera sa il dezactiveze si sa revina la clasicul Start Menu cu ajutorul unor aplicatii third-party.
Unul dintre motivele de nemultumire (pentru ambele categorii de useri) este faptul ca la fiecare instalare noua a unei aplicatii, un tile pentru aceasta este auto-fixat (auto-pinned) in Start Screen, in scurt timp acesta devenind aglomerat cu foarte multe aplicatii care nu sunt folosite decat ocazional.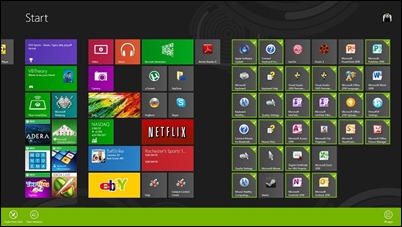 Desi tile-urile pentru noile aplicatii pot fi sterse manual din Start Screen, o solutie mult mai simpla ar fi prevenirea crearii de tile-uri noi la fiecare instalare de aplicatii.
AutoPin Controller este o utilitate freeware, portabila (nu necesita instalare), care previne adaugarea de shortcut-uri pe Start Screen ale aplicatiilor nou-instalate. Cu ajutorul acestui tool, utilizatorii pot dezactiva feature-ul de auto-fixare atunci cand doresc sa instaleze aplicatii pentru care nu doresc crearea de tile-uri in Start Screen, si il pot reactiva la loc ori de cate ori doresc sa creeze shortcut-uri pentru aplicatiile importante sau folosite zilnic.
Cum se foloseste AutoPin Controller?
Tot ce trebuie sa faceti este sa rulati aplicatia, apoi sa dati click pe butonul Lock "Pin to Start Screen" feature pentru a dezactiva feature-ul de auto-pinning.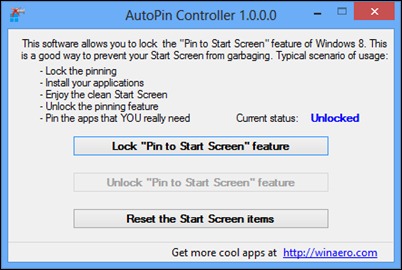 Aceasta optiune le este de un real ajutor utilizatorilor care obisnuiesc sa instaleze mai multe aplicatii o data (de exemplu, folosind servicii cum ar fi ninite.com) si nu doresc sa fie create tile-uri pentru fiecare aplicatie in Start Screen, dar si utilizatorilor care obisnuiesc sa testeze constant noi aplicatii si care nu doresc sa stearga manual tile-ul creat in Start Screen dupa fiecare instalare.
In cazul in care veti dori apoi sa reactivati feature-ul de auto-fixare (crearea de tile-uri in Start Screen a aplicatiilor instalate), atunci dati click pe butonul Unlock "Pin to Start Screen" feature (disponibil doar daca feature-ul este dezactivat). De asemenea, utilizatorii care au Start Screen-ul prea aglomerat si doresc sa rezolve rapid problema, pot da click pe butonul Reset de Start Screen items (Start Screen-ul va arata din nou ca dupa o instalare fresh de Windows).
Credit @winaero.com
STEALTH SETTINGS  – How to prevent applications from auto-pinning in Windows 8 Start Screen
Cum putem preveni auto-fixarea aplicatiilor instalate in Windows 8 Start Screen