Windows 8.1 Preview, lansat saptamana trecuta, a venit la pachet cu o serie de imbunatatiri facute de Microsoft (cel putin mare parte din acestea) la cererea utilizatorilor. Dintre cele mai importante sunt butonul de Start (care spre dezamagirea unora deschide Start Screen-ul si nu un meniu de Start cum si-ar fi dorit), optiunea de a boota direct in Desktop, posibilitatea de a rula 2 aplicatii side-by-side (split view) pe acelasi ecran in proportii de 50%/50% (fata de 75%/25% cum e cazul in Windows 8), posibilitatea de accesare a setarilor de sistem disponibile in Control Panel direct din PC Settings, optiunea de dezactivare a hot-corners (Charm bar si App Switch list), aplicatii moderne buit-in noi si optiuni mai multe de personalizare/customizare a interfetei moderne (Start Screen si Lock Screen).
In urma cu cateva zile va spuneam despre o aplicatie care permite utilizatorilor sa customizeze Lock Screen-ul in Windows 8 astfel incat sa poata afisa un slideshow cu imagini la alegere pe acesta, si de asemenea sa poata modifica notificatiile afisate de aplicatii. In Windows 8.1 Preview aceste optiuni sunt disponibile in mod default in noul PC Settings (despre care spuneam ca a fost de asemenea mult imbunatatit).
Cum putem activa afisarea unui SlideShow pe Windows 8.1 Lock Screen?
deschideti PC Settings (din meniul Charms) si navigati catre PC & Devices > Lock Screen
in panoul din dreapta activati optiunea Play a slide show on the lock screen (trageti cu mouse-ul de sliderul afisat sub optiune inspre On)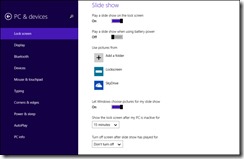 Dupa ce activati afisarea slide show-ului pe lock screen, puteti personaliza acest feature cu ajutorul celorlalte optiuni disponibile:
puteti alege sa afisati un slide show pe lock screen chiar si atunci cand laptopul sau dispozitivul mobil functioneaza pe baterie (nerecomandat insa datorita consumului mare de energie)
puteti folosi pentru silde-show imaginile stocate in folderul default Pictures sau puteti adauga orice foldere doriti (optiunea Add a folder de sub Use pictures from) astfel incat slide show-ul sa afiseze imaginile stocate in acestea
puteti activa/dezactiva afisarea slide show-ului in modul shuffle (imaginile vor fi afisate aleatoriu) folosind optiunea Let Windows choose pictures for my slide show
aveti optiunea de a seta un anumit timp de inacxtivitate a sistemului dupa care Lock Screen-ul va fi afisat pe display (Show the lock screen after my PC is inactive for…)
si nu in ultimul rand puteti alege sa opriti afisarea Lock Screen-ului dupa o anumita perioada de timp (sau sa nu il opriti deloc) folosind optiunea Turn off screen after slide show has played for.
Aplicatiile afisate pe Lock Screen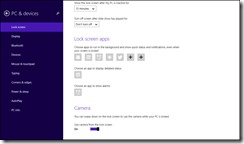 In ceea ce priveste aplicatiile care afiseaza notificatii si status-uri pe Lock /Screen, numarul acestora a fost de asemenea modificat, fiind adaugata aplicatia Alarm (aceasta putand fi inlocuita dupa preferinte cu aplicatii alarma third-party descarcate din Windows Store) si in plus utilizatorii pot adauga inca doua aplicatii moderne (la alegere) pentru care vor fi afisate notificatii pe lock screen.
Camera dispozitivului pe care ruleaza sistemul poate fi accesata direct din Lock Screen in Windows 8.1 Preview, utilizatorii trebuind doar sa traga in jos (swipe) cu degetul (sau mouse-ul) pe ecran pentru a o deschide (activati optiunea Use camera from the lock screen).
Si nu in ultimul rand, utilizatorii Windows 8.1 Preview au acum optiunea de a opri/activa conexiunea WiFi (sau a modifica reteala la care sunt conectati) direct de pe Lock Screen, aceasta fiind afisata in coltul stanga-jos al ecranului, sub butonul Ease of Access, daca trageti cu degetul/mouse-ul in sus pe Lock Screen (swipe).
STEALTH SETTINGS – New customize options for Windows 8.1 Preview Lock Screen
Noi optiuni de customizare pentru Lock Screen in Windows 8.1 Preview