Atunci cand instalam un joc de ultima generatie sau un software complex (gen. Adobe Photoshop  CS5), prima intrebare pe care ne-o punem este: "Am suficiente resurse de sistem (RAM/CPU/Video Card) pentru joc / sofware?".
Chiar daca pentru un joc sau un software avem resursele minime recomandate, in timpul jocului sau al lucrului este posibil sa apara intreruperi neplacute din cauza lipsei de RAM sau CPU. Pentru a rezolva aceste probleme va trebui sa ne optimizam sistemul de operare (tweaking / tune up) astfel incat sa consume mai putine resurse RAM si CPU. Acest lucru il putem face prin oprirea manuala a unor servicii Windows (Windows Services), prin eliminarea unor efecte vizuale si a programelor care se lanseaza la pornirea calculatorului (Startup).
(Cateva referinte : Speed up Windows XP, Speed up XP: "Cleaning out" StartUp,  Speed up Windows Vista, Speed-Up Vista : Disable Automatic Windows Defender Operation, Speed-Up Vista: Turn-Off Un-Needed Features, Speed-up your XP – Optimize Display Settings, Dezactivare Defragmentare Automata (Windows Vista Speed), Cum sa curatam Memoria Virtuala (pagefile.sys) la fiecare Shutdown [Windows Optimization], etc… )
In plus, pentru a obtine maximul de performanta de la sistemul nostru de operare este foarte important ca toate driverele sa fie instalate si updatate la zi. De la driverele de retea pana la cele de hard-disk, toate pot afecta pozitiv sau negativ performanta sistemului de operare, fie ca vobim despre  Windows Vista, Windows XP sau Windows 7 .
Game Booster este o aplicatie care ajuta sa obtineti maxmul de la PC-ul dvs. Nu va pune 1 GB de RAM in plus fata de cat aveti dvs. si nici nu face dintr-un Core Duo un i7, insa este o aplicatie cu ajutorul careia puteti opri dintr-un click toate serviciile (Windows Services) si procesele care nu sunt necesare sistemului de operare in timp ce ne jucam. In plus, Game Booster ne ofera informatii despre driverele hardware-ului folosit la jocuri si ne ofera posibilitatea sa le downloadam din interfata aplicatiei, fara a mai nevoiti sa cautam pe Google sau pe site-urile producatorilor.
Dealungul timpului am mai folosit programe de System Tweaks si Tune Up, insa nu au stat mult mult de o zi instalate pe laptop-ul meu.  Majoritatea producatorilor de astfel de software-uri pun in descrierea aplicatiei fraze intregi care te fac sa crezi ca ai dat peste programul minune, care iti va face din calculator o "racheta", insa dupa instalare constatam ca procesele pe CPU/RAM ale softului de optimizare, consuma mai multe resurse decat reuseste el sa optimizeze.
Game Booster sta instalat pe PC-ul meu de aproape o luna si ma gandeam serios daca sa-i fac sau nu, un review. Se pare ca merita. Este o aplicatie foarte usor de utilizat si ale  carei rezultate sunt vizibile. Game Booster se bazeaza pe oprirea serviciilor si a aplicatiilor care nu ne sunt necesare pe sistem in timpul unui joc.  Faptul ca ne ofera posibilitea sa decidem singuri ce servicii dorim sa pastram active, face din Game Booster un bun software de optimizare si pentru persoanele care nu sunt innebunite dupa jocuri.
Download Game Booster v2 Beta 1 .
Instalare Game Booster – dupa ce descarcati fisierul gb2beta-setup.exe, rulati si mergeti cu "Next" pana la capat :)
Dupa ce il instalati, inainte de a activa modul pentru jocuri este indicat sa mergeti pe meniul din stanga la Game Drivers si sa vedeti ce drivere sunt dispobinile pentru sistemul dvs. de operare.
Selectati driverul din lista, apoi faceti click pe "Go to download page". Veti fi dusi direct pe pagina de download a producatorului drivereului, de unde puteti descarca ultima versiune / update.
In "Game Essentials" aveti cateva tool-uri folositoare pentru gameri. Ventrilo – voice chat, TeamSpeak, Xfire si Steam.
Cu un singur click pe "Download" le puteti instala pe toate. Sau pe cele selectate de dvs.
Game Defrag – Nu sunt sigur cat de importanta este aceasta optiune de optimizare, insa se stie ca defragmentarea nu strica niciodata. Ba chiar devine necesara dupa un timp.
Tool-ul face numai defragmentarea jocurilor instalate pe PC, pentru a mari viteza de incarcare a acestora.
System Tweaks – In modul Top Performance face cateva modificari de registrii (Windows Registry) pentru a mari viteza de download, optimizeaza conexiunea pe porturile speciale folosite de jocuri, mareste viteza de shutdown a PC-ului, etc tweaks …
Dupa ce activati Top Performance este necesar sa restartati calculatorul.
Game Tools – De aici puteti seta tastatura, mouse-ul si alte controllere pentru jocuri. In plus, pentru laptop-uri apare "Adjust Power Settings". Optiune care ne ajuta sa folosim planul energetic la care laptop-ul nostru atinge performante maxime. Power Options in Windows 7.
Rezultate Game Booster 2 pe Windows 7 si pe Windows XP. *Rezultatele sunt facute fara a rula vreun joc sau aplicatie, in afara celor "default" din background. Servicii si aplicatii din startup. Top Performance – dezactivat.
Windows XP – Game mode: OFF
Windows XP – Game mode: ON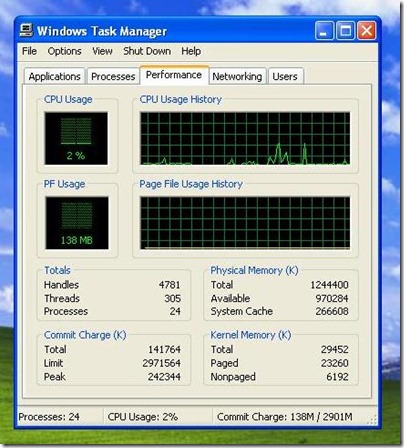 Memorie in uz:  – de la 208 RAM a scazut la 138 RAM. Este o diferenta destul de mare  pentru un Windows XP cu 1.2 GB RAM instalat.
Nici e Windows 7 rezultatele nu au fost mai slabe.
Windows 7 – Game mode: OFF
Windows 7 – Game mode: ON
Cum ne poate ajuta Game Booster 2 daca nu suntem gameri.
Dupa ce pornim Game Booster-ul, in partea de jos, sub "Advice" apare numarul serviciilor care pot fi oprite si "Details".
Click pe "Details", iar din lista de servicii le deselectam pe cele care ne sunt utile in timpul lucrului.
Dupa ce facem click pe "Next", apare lista cu aplicatiile care ruleaza in background.
Aici va trebui sa le selectam pe cele care nu ne sunt utile. Bifand optiunea "Show Current User`s all Processes" avem posibilitatea de a inchide toate procesele deschise pe user-ul nostru de system.
Game Booster v2 Beta – Free and Total Solution for better gaming experience!
Aplicatia a fost testata pe Windows XP SP2 si Windows 7 Ultimate (32-bt).
Compatibilitate: Windows 7, Vista, XP & 2000.
Optimizare / Tweak Windows XP, Vista & Windows 7 – Obtineti un consum mai mic de RAM si CPU.