Toti (sau aproape toti) utilizatorii Windows sunt mai mult sau mai putin dependenti de Context Menu (meniul de click-dreapta), fie ca este vorba de aplicatii, de tool-uri sau fisiere de sistem, sau de link-uri/url-uri. Vrei sa afli proprietatile unui fisier? Click-dreapta si selecteaza Properties din meniu. Vrei sa scanezi un fisier pentru a verifica daca este "clean"? Click-dreapta si selecteaza Scan with [nume antivirus] (nume antivirus inlocuieste numele antivirusului instalat pe sistem). Vrei sa creezi o arhiva? Click-dreapta pe folder sau fisier si selecteaza Add to archive. Vrei sa deschizi un anumit fisier cu o anumita aplicatie? Click-dreapta si selecteaza Open with. Vrei sa deschizi un link in alt tab/alta fereastra? Click-dreapta si selecteaza Open link in New Tab/Window. Si exemplele pot continua.
In trecut am scris cateva articole despre cum putem imbogati meniul de click-dreapta, adaugandu-i cateva optiuni personalizate, in functie de preferintele fiecarui utilizator (Take Ownership, Show/hide file extension, Delete folder content, Context Menu tweaks etc.), cu ajutorul editorului de registrii (regedit), insa editarea registrilor nu este un task simplu si lipsit de risc avand in vedere ca o singura greseala poate fi fatala pentru sistemul de operare (de aceea este recomandat sa se faca back-up la registri inainte sa se modifice ceva in regedit). O alternativa pentru cei care doresc sa personalizeze/modifice meniurile de click-dreapta dar prefera sa nu se complice cu registrii de sistem este 7CmenuEditor, o aplicatie portabila (nu necesita instalare) care ajuta utilizatorii sa adauge (sau sa stearga) optiuni in Context Menu fara a deschida regedit.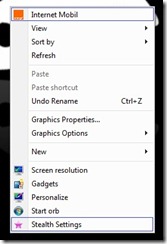 Cum functioneaza 7CmenuEditor?
Aplicatia are interfata, de altfel simpla si usor de folosit, impartita in doua sectiuni, una pentru executabile/aplicatii si una pentru link-uri/url-uri.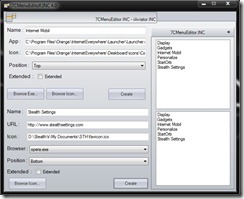 Pentru a adauga intrari personalizate in Context Menu, alege intai un nume pentru aceastea, apoi da click pe Browse Exe pentru a selecta aplicatiile pe care vrei sa le deschizi din meniul de click-dreapta sau tasteaza (Copy/Paste) url-urile preferate, selecteaza browserele cu care vrei sa se deschida fiecare dintre acestea (optional poti selecta si un icon care sa apara in fata intrarii, in meniu), apoi da click pe Create. Odata create intrarile, acestea vor aparea in panourile din dreapta. Poti selecta unde anume in Context Menu sa apara noile optiuni/intrari (in partea de sus, la mijlocul sau in partea de jos a meniului), iar daca vrei sa stergi vreo intrare din meniu, da click-dreapta > Delete pe aceasta in aplicatie (sau selecteaza intrarea si apasa tasta Del).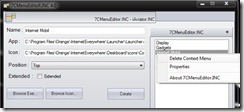 Nota: Aplicatia trebuie rulata obligatoriu cu drepturi de administrator (click-dreapta > Run as administrator). Compatibila si cu Windows Vista.
STEALTH SETTINGS – CUSTOMIZE WINDOWS 7 CONTEXT MENU WITH 7CMENUEDITOR
Personalizeaza meniul de click-dreapta (Context Menu) in Windows 7 folosind 7CmenuEditor