O eroare intalnita cu precadere pe PC-urile / laptop-urile care au sistem de operare Windows 10 si placa video (video graphic card) dedicata NVIDIA GeForce Experience.
Eroarea apare atunci cand incercam sa facem update driver-ului pentru placa video NVIDIA. "Unable to connect to NVIDIA. Try again later". Practic aceasta eroare face imposibila actualizarea driver-ului NVIDIA pentru Windows 10 din interfata software-ului.
Ccum rezolvam eroarea de update pentru GeForce Experience pe Windows 10
O varianta usoara ar fi sa mergem pe site-ul oficial al nVidia si sa downloadam apoi sa instalam manual driver-ul pentru placa video.
Daca tinem neaparat sa rezolvam eroarea si sa facem update-ul functional din interfata GeForce Experience, atunci va trebui sa urmam cativa pasi simplii si sa aducem unele modificari serviciilor din sistem. Windows Services.
1. In primul rand va trebui sa verificam daca serviciul NVIDIA Network Service are statusul "Running" in lista de servicii a Windows 10.
Deschidem Task Manager (click-dreapta pe bara de lucru / TaskBar > Task Manager) si apoi mergem in tab-ul "Services". Cautam in lista serviciul "NVIDIA Network Service" si verificam statusul. Daca este altul decat "Running", click-dreapta pe serviciu si click "Start" pe meniul care se deschide.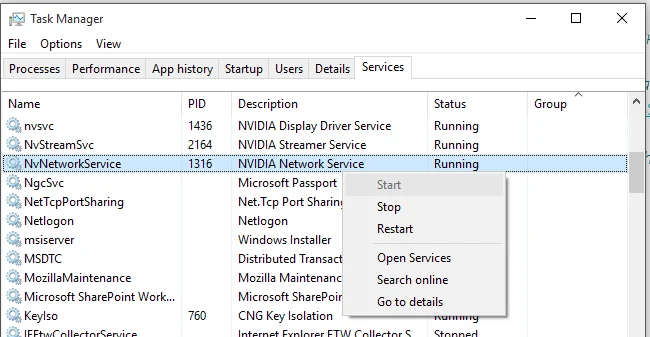 2. Mergem in folderul C:\ProgramData\NVIDIA Corporation\NetService\ si stergem sau redenumim fisierul NSManagedTasks.xml.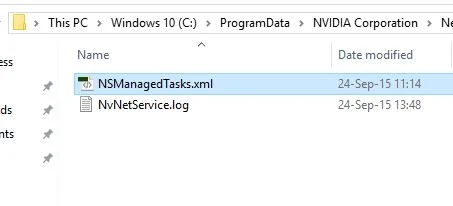 3. Mergem in Task Manager la "Details" si verificam daca ruleaza procesul NVNetworkService.exe *32.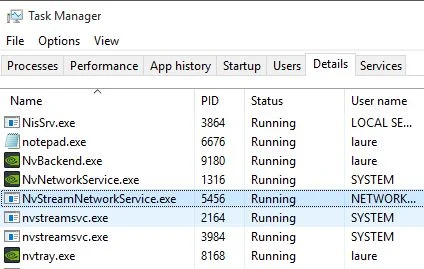 Daca acest proces nu apare in Task Manager, ne intoarcem la lista de servicii si pornim serviciul NVIDIA Network Service.
Dupa acesti pasi, mergeti in interfata GeForce Experience si porniti update-ul pentru driver-ul nVidia.
In cazul nostru eroarea a aparut pentru update-ul "Game Ready Driver"al nVidia..